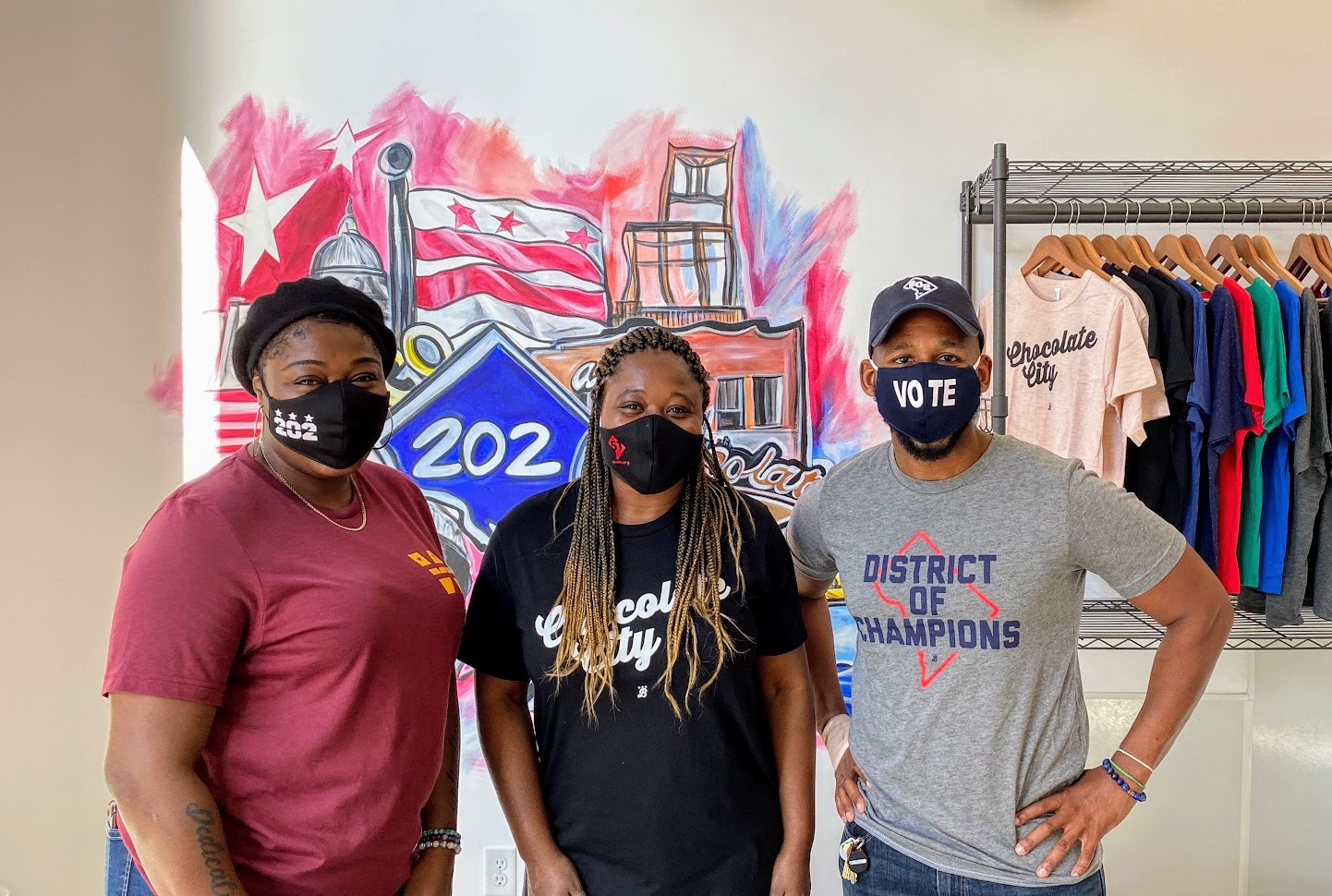 DC's Bailiwick Clothing Company Opens New Pop-Up Shop at The Wharf
Published October 7, 2020
The Wharf, Washington, DC's world-class, mixed-use waterfront neighborhood, announced today an addition to its diverse list of retail offerings: a pop-up shop by Bailiwick Clothing Company featuring Shea Yeleen skincare products. Located at 49 District Square SW, the Black-owned pop-up shop will be open through the end of the year.
Brother duo J.C. and Jeff Smith founded Bailiwick Clothing Company in 2015 to create clothing that truly captures the pride and positive energy generated by the people of the nation's capital. Through t-shirts, hoodies and now face masks, Bailiwick Clothing features images and messages that ring true to those who work, live and play in DC.
The shop will have classics including one of their best-selling designs featuring the city's area code, "202" in a bold font inspired by the city's flag. The Foo Fighters' lead singer, Dave Grohl, also known for headlining The Anthem's first concert, has been seen sporting the iconic shirt. The brothers also plan to use their shop at The Wharf as a "test lab" to launch potential products and release new styles and colors that can be found exclusively at this location.
"We're super excited for this opportunity to bring Bailiwick Clothing to a pop-up store at The Wharf," said J.C. Smith, Co-founder of Bailiwick Clothing Company. "The Wharf is one of the premier destinations in the city drawing in people from all over. We can't wait to introduce this audience to our brand while giving our loyal customers a new way to engage with us. We're working to create a unique, fun shopping experience that's reflective of the city's dynamic spirit."
Shea Yeleen is known for their high-quality beauty products using 100 percent natural, unrefined shea butter produced in Africa by women-owned cooperatives. DC-based Founder and CEO, Rahama Wright created the brand to economically empower African women through the marketing and sale of shea butter products including lip balm, cream and soap. All products are handmade locally in small batches ensuring quality.
The Bailiwick Clothing Company pop-up featuring Shea Yeleen is open from Tues-Thur 12pm-6pm, Fri & Sat 12pm-7pm and Sunday 12pm-6pm. For the latest information please visit www.bailiwickclothing.com and www.sheayeleen.com or follow the companies on Instagram @bailiwick_clothing and @sheayeleen.
For more information on The Wharf, please go to WharfDC.com, download The Wharf app, or follow @TheWharfDC on Instagram, Facebook, and Twitter.
Media Contact:
Ana Caceres
Public Relations Coordinator
About The Wharf
The Wharf is a remarkable waterfront neighborhood, located along the Washington Channel of the Potomac River, that has established Washington, D.C. as a true waterfront city. The first phase of The Wharf opened in 2017 with over two million square feet of residences, offices, hotels, shops, restaurants, cultural uses, marinas, and public areas including waterfront parks, promenades, piers, and docks. Phase 1 of The Wharf has increased local and regional connectivity through a new water taxi system, the Southwest Neighborhood Shuttle, proximity to Metro, as well as new bicycle and pedestrian infrastructure. Phase 2 of The Wharf broke ground in early 2019 and will deliver the neighborhood's remaining 1.25 million square feet of mixed-use development, including new office, residential, hotel, marina, and retail space, as well as parks and public places, across a half mile of redeveloped waterfront. Phase 2 features an impressive lineup of 13 architects and designers from around the world and is scheduled to deliver in 2022.
At full build out, the $2.5 billion, world-class, mixed-use waterfront neighborhood will feature more than 3.2 million square feet of development along a mile of Washington, D.C.'s waterfront.